Projects
---
STONES: Interactive Projection Mapping on Durham Cathedral / Durham Lumiere 2019 Festival, England
Tigrelab + Durham Lumiere Festival
Music composition and interactive live soundtrack mixing / morphing engine
November 2019, Durham, England
For the Lumiere 2019 festival in Durham, Tigralab crafted an interactive projection mapping on the
Durham cathedral
.
I had the opportunity to contribute to this project by:
composing multiple looping ambient soundscapes based on multiple interchangeable layers
implementing an interactive live soundtrack mixing / morphing engine, controlled the Stone Controller built by Tigrelab.
" Light and music energise the architecture of Durham Cathedral.
Shape-shifting video-mapped projections animate the Cathedral, highlighting the significance of the building as both an iconic historical structure and a modern symbol for the city. A composed generative soundtrack constantly changes and evolves, raising through a crescendo that moves in symphony with the spirituality of the Cathedral. You're invited to manipulate the installation by interacting with one of two stone controllers. " From Lumiere 2019 Festival Program
" 'Stones' consists of a shape-shifting, video-mapped projection, and will highlight the cathedral as an iconic historical structure as well as a modern symbol for the city. Set to a rousing soundtrack, some lucky festivalgoers will even be able to interact with the piece, manipulating the images shown by the use of a [4 stones] controller. " From Durham Cathedral News
STONES Interactive projection mapping show on Durham Cathedral for Lumiere 2019 festival (playlist).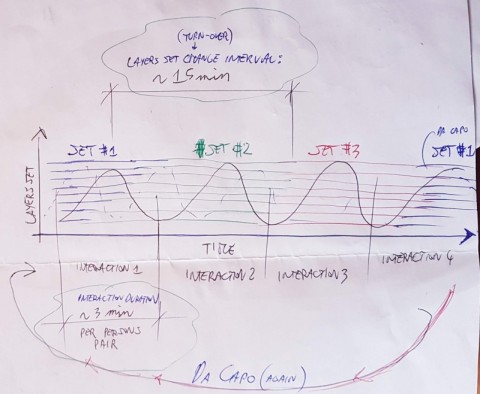 Layers Groups Morphing dynamics (early sketch).
Stones project page
on Tigrelab ART Website.
Stones - Interactive Projection Mapping - Lumiere Festival 2019 from Tigrelab on Vimeo (music not from the installation).